Showing Appreciation for Nurses & Police
---
The COVID pandemic has underscored how important certain professionals are to our lives. It's a long list, but nurses and police carry a special importance to our health and safety, not just now, but always. They are close to the heart of DuBois Law Group, PLLC, so we would like to show our appreciation.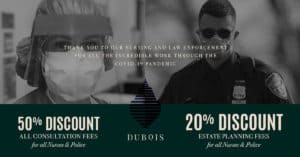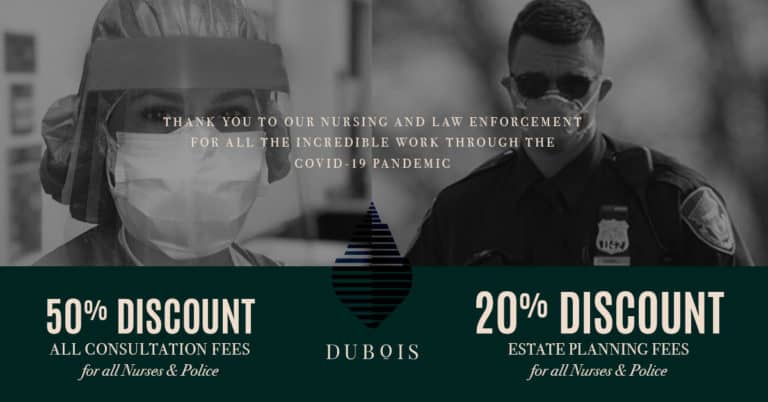 The best way to start out showing one's appreciation is to simply give thanks. So, thank you, from the bottom of our hearts, to all the nurses and police that are putting their lives, and family's lives, on the line during this crisis. Our health and safety are more at risk now, than ever, and many of us have the luxury of staying home to avoid contracting the virus. Nurses and police don't have that luxury, and are still committing themselves to doing their jobs.
Nurse and police hold a special importance at DuBois Law Group, because DLG Founder Austin F. DuBois was raised by them. His father and mother are lifelong police and nurse, respectively, and so he's seen, from the best perspective possible without being one, the sacrifices that they make. There were some Christmas mornings when presents weren't opened right away, because Mom or Dad had to take a shift and wouldn't get home until later in the day. Plenty of having to be quiet during the day because Mom or Dad worked overnights and was sleeping. Sacrifices weren't just for Mom or Dad, but through the police department, Austin went around as a child to bring presents to the less fortunate. Being brought up in a nurse/police household meant being brought up to care about serving the community.
So, it's time to return that favor, in whatever way we can.
Saying thanks is a start, but it's important to follow that with actions. There may not be a lot of options–but we can still find ways. Writing letters, donating meals for those on the job, being more proactive about checking in with friends and loved ones just to talk, are some.
When you run a business, offering goods or services at a discount is another. That's why we at DuBois Law Group are proud to offer to nurses and police a 50% discount on consultation fees, and a 20% discount on planning & design fees for estate plans. That's the business we're in, and it's a service that most people need. So why not show our nurses and police our appreciation by providing them with a little tangible thanks, allowing them to save even more money while we help them protect their families and their assets.
For more information on these discounts, contact us today!